Stacking the Shelves is an awesome meme hosted by Tynga's Review.
Bloggers share the books they've received, bought, borrowed - and I collect more and more books for my 'must acquire' list.
I did buy a book this week, for $2.25, and I picked up a few freebies and a few for review. My budget is sitting steady at $29 left.
Note: All blurbs are straight from Goodreads.
Shadow Sight by E.J. Stevens
Welcome to Harborsmouth, where monsters walk the streets unseen by humans…except those with second sight, like Ivy Granger.

Some things are best left unseen...

Ivy Granger's second sight is finally giving her life purpose. Ivy and her best friend Jinx may not be raking in the dough, but their psychic detective agency pays the bills—most of the time. Their only worry is the boredom of a slow day and the occasional crazy client—until a demon walks through their door.

Demons are never a good sign...

A demon attorney representing the water fae? Stranger things have happened. And things are about to get very, very strange as a bloodthirsty nightmare hunts the city of Harborsmouth.

There's blood in the water...

Kelpies have a reputation for eating humans. Unfortunately, Kelpies are the clients. When an Unseelie faerie this evil stalks the waterways of your city, you have to make hard choices.

The lesser of two evils...
Chelsea's Thoughts: I grabbed this because I was jonesing for some Urban Fantasy, and a psychic detective agency sounds like it could be in my wheelhouse.
A Demon Bound by Debra Dunbar
Samantha Martin is an imp, enjoying an extended vacation from Hel. All she wants to do is drink beer by the pool, play mischievous pranks on the humans, and get her hot neighbor in the sack. It's a relaxing break from her infernal home, as long as she manages to avoid the angels, who won't hesitate to execute her on sight.
But when her naughty hellhound lands her in trouble with the local werewolf pack, Sam is blackmailed into helping track and catch a killer. The steps she must take to appease the werewolves will put her right in the crosshairs of the angels. And with angels, there is no second chance.
Chelsea's Thoughts: This book has nearly 2500 ratings on Goodreads. Geebus. I grabbed it because, again, on an Urban Fantasy kick. Also, it has two different covers, and this newer one is pretty badass.
Little Beach Street Bakery by Jenny Colgan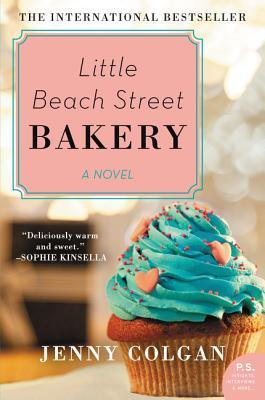 In the bestselling tradition of Jojo Moyes and Jennifer Weiner, Jenny Colgan's moving, funny, and unforgettable novel tells the story of a heartbroken young woman who turns a new page in her life . . . by becoming a baker in the town of Cornwall
A quiet seaside resort. An abandoned shop. A small flat. This is what awaits Polly Waterford when she arrives at the Cornish coast, fleeing a ruined relationship.
To keep her mind off her troubles, Polly throws herself into her favorite hobby: making bread. But her relaxing weekend diversion quickly develops into a passion. As she pours her emotions into kneading and pounding the dough, each loaf becomes better than the last. Soon, Polly is working her magic with nuts and seeds, chocolate and sugar, and the local honey--courtesy of a handsome beekeeper. Packed with laughter and emotion, Little Beach Street Bakery is the story of how one woman discovered bright new life where she least expected--a heartwarming, mouthwatering modern-day Chocolat that has already become a massive international bestseller.
Chelsea's Thoughts: This is the book I bought. I'm reviewing the second one in the series in March as part of its re-release (I gather, based on the Goodreads information). The series looks adorable.
All Fired Up by Vivian Arend and Elle Kennedy
He's ready to lead the way
Parker Wilson never thought he'd go from battle-hardened soldier to romance expert, but after his stint in the Rangers, that's exactly what happened. As the owner of DreamMakers Inc., he helps other men win in the love department, using every resource available to plan the perfect date. When a routine recon turns into an unexpected night of passion, Parker's mission becomes more personal—and he won't give up until Lynn Davidson is all his.
She's more than willing to follow
Lynn is a goner from the moment she lays eyes on the delectable Parker. She's just ditched her boring almost-boyfriend and is tired of sticking to the straight and narrow. It's time to walk on the wild side, and what better way than in the arms of the most irresistible man she's ever met? But when their red-hot affair is threatened, it'll take a team effort to make their dreams come true.
Chelsea's Thoughts: I've read Elle Kennedy before and feel like I enjoyed her writing. Plus a soldier returns home and starts a business that *isn't* mercenaries/security/bodyguards? That hooked me.
Love Garage by Liz Crowe
A Family Saga with humor, heat and heart--not to mention beer, bourbon and basketball!
Antony Love is the quintessential responsible oldest brother of a boisterous, Italian/Irish family, placed in charge at a young age by his parents who are busy running the family business. He manages his siblings with a fair but iron hand, until his life is shattered by personal tragedy leaving him the shell of the man he once was.
When outspoken matriarch Lindsay Halloran Love becomes ill, the youngest brother Aiden shows up at Antony's garage, having dropped out of school (again), needing work and a place to crash. Antony provides both, with three caveats: "Don't smoke in my truck, don't be late for work, and don't mess with my girlfriend."
But Aiden Love, budding novelist, gets one glimpse of Rosalee Norris, young widow of Antony's lifelong best friend and all bets are off.
Chelsea's Thoughts: I'll be honest, I'm not sure what to think about this one. The title is... not great. And the blurb makes this family sound like a disaster waiting to happen. But something in there made me think... yes, take a chance on this one.
I also picked up for review:
To Steal a Heart by K.C. Bateman
- France, a thief caught between a rock and a hard place, a spymaster. Sounds good to me.
Love Me, Love Me Not by Alyxandra Harvey - Swan shapeshifters? A love story derailed by a family feud? I'm in.
Holding Court by K.C. Held - This book had me at teenager gets a job at a Medieval Times-esque place. This was one of my favourite daydreams as a teenager. I don't even care what else happens in the book, I saw that and knew I had to read it.
Central Station by Lavie Tidhar - I wanted to balance out all my romance and YA books with something different. This Science Fiction melting pot story fits the bill!
Tell the Wind and Fire by Sarah Rees Brennan - Description on this one really hooked me. Magic, doppelgangers, guilty feelings... Sign me up!
I think I've finished four books this week - it's all a bit of a blur. I'm up to 18 total for the month, and I've acquired... 34. I may have a bit of a problem. But I'm also kitted out for review books through mid-March, so I'll avoid looking at all the shiny new books for the next couple weeks and hopefully a dent can be made?
As always, if you have written a review of any of my 'for review' books, please drop me a link here in comments or email/tweet it at me so I can include your link in my 'don't take my word for it' section of my review post.
That's it for me this week. What's on your list this week?