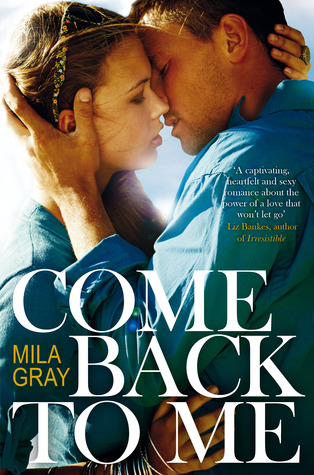 The Basics:
Come Back to Me by Mila Gray
Pan
Romance
Published June 19, 2014
Source: Received via NetGalley in exchange for an honest review.
Amazon.ca Kobo.com
Why I picked up this book:
I love the cover, and I really liked the blurb too.
Blurb:
Come back to me. That was the very last thing I said to him.
Always. The very last thing he said to me.
Home on leave in sunny California, Marine and local lothario Kit Ryan finds himself dangerously drawn to his best friend's sister, Jessa - the one girl he can't have.
But Kit's not about to let a few obstacles stand in his way and soon Jessa's falling for his irresistible charms.
What starts out as a summer romance of secret hook-ups and magical first times quickly develops into a passionate love affair that turns both their worlds upside down.
When summer's over and it's time for Kit to redeploy, neither Kit nor Jessa are ready to say goodbye. Jessa's finally following her dreams and Kit's discovered there's someone he'd sacrifice everything for.
Jessa's prepared to wait for Kit no matter what. But when something more than distance and time rips them apart they're forced to decide whether what they have is really worth fighting for.
A breathtaking, scorchingly hot story about love, friendship, family and finding your way back from the edge of heartbreak.
My thoughts:
Wow, this one brings out all the tears, and all the smiles.
The very first chapter sets up a tragedy, and then you slip into the past to read about Kit and Jessa falling for each other. That tragedy hangs over the whole thing so it all feels almost a little bittersweet, except that damn! These two have chemistry that scorches the page!
This book felt so real to me, because the characters seemed so plausible. Jessa is keeping her head down, trying to get through her senior year of high school without ticking off her dad who is a Colonel and suffers from some kind of PTSD. Everyone in the family has learned to tiptoe around him rather than stand up for themselves and set him off one of his rages. Kit is her older brother's best friend, and there's an element of the forbidden here because her father would never approve and her brother's a tad on the overprotective side.
For his part, Kit is an amazing boyfriend while on leave. He respects Jessa's desire not to tell her family the truth about them, he doesn't pressure her to go any faster physically than she wants to, he does support and push her to reach for more independence and for her dream of acting. He wants to light her up, and it's clear that he helps Jessa start to blossom.
Which is why knowing that something awful is going to happen makes everything a little sad as well, because you know that at some point the tragedy happens and there's a definite before and after break in how sweet everything is.
I cried so much with this one. Military families go through so much - I cannot even imagine what it would be like to spend several months apart from your loved one, not knowing if they would return to you safe and sound or not.
This story is beautiful and heartbreaking. It's filled with heat - Kit and Jessa have a hard time keeping their hands off of each other, and the writing makes it wonderfully clear how much joy they both experience as they revel in even the smallest gestures. Having the perspective shift by chapter between Kit and Jessa makes it that much easier to appreciate everything they're both going through - and for some sections is completely necessary to understand the why of events.
Bottom line:
Loved this book. Fully recommend it. It's beautiful.
4.5 stars
For fans of romance, military romance, heartbreakingly good stories.